Brandon Ray Buckler
2nd Annual Memorial Rodeo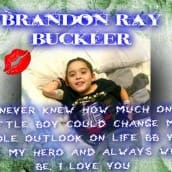 As you may or may not know, we lost Brandon Ray to Gaucher's Disease on May 1st, 2012.  Brandon was twelve years old at the time of his death.  Brandon's words on his death bed were very strong in the belief that he would beat his horrible disease.  Brandon Ray dreamed of being a normal little boy, always hoping and praying that a cure was to be found in his near future.  When, being sent home from the hospital for the last time, with no hope of survival, only to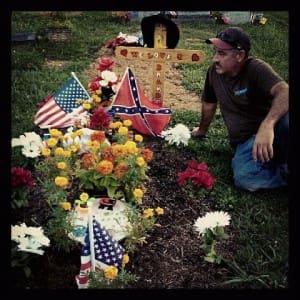 succumb to this horrible disease, his family holding both of his hands and praying  for a miracle.  Brandon Ray's preacher spent hours with Brandon and his family during the days of their grueling, emotional roller-coaster they were on.  Their preacher was having a conversation with Brandon about this point in his life's journey; Brandon Ray was listening, not responding most of the time now.  He would squeeze your hand or blink his long lashes to let you know he could hear you and understood what you had said.  So, in the middle of this one particular conversation, the preacher asked Brandon when you meet god, tell god blah,blah for him.  Remember, this was just a rambling preacher talking, trying to ease the burden of the upcoming event.  Brandon in his tired barely audible voice said, "I will not tell him anything (short breath taken) because (moment of silence and a deep breath, again) with a louder voice Brandon stated,  "I'm not going to see him!"  You could hear Brandon struggling to breath, he took an even deeper breath and spoke even louder than before, at this point the entire room of family and friends were listening, that the whole room heard his next statement, "I AM GOING TO FIGHT!"   He passed away not to long after these words wore spoken.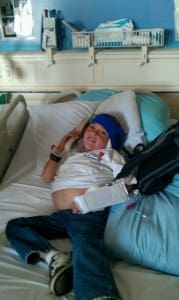 Brandon was only a child, but throughout his life he was loved by many and has inspired them within their own lives to better themselves personally, strive for a better quality of life and helped them realize that they can triumph in all of life's adventures.  The pain of losing a child is indescribable.  The pain of losing Brandon Ray from our World has inspired people who didn't even know him, to love him and use his example of pure strong will and his love for life, as their daily inspiration.  The loss that his parents and family have suffered just reminds the rest of us, what is most important in our lives.  Brandon Ray is a source of strength to us not only in life, but in death as well.  His courage and attitude in the face of adversity is an inspiration to everyone who had the joy of knowing him.  It is with his spirit that we want you to join us to spread the word of this Little Inspiration and help us keep Brandon Ray's memory alive and inspiring other children and families to reach beyond their restraints in life and keep fighting, hoping and believing, we will find a cure for all diseases, which affect our society.  We know that Brandon Ray is encouraging us to find a cure and to share his story with the world.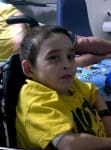 Please, take a few minutes and befriend Memorial Rodeo Brandon Buckler on Facebook and read through his Bio, look at his pictures and enjoy his infectious smile.  Brandon Ray loved his life and lived to his fullest potential with Gaucher's Disease, ever since he was nine months old when the Doctors diagnosed him.  Brandon Ray is and was an inspiration to so many.  If you feel a personal connection, as we do, we ask that you consider taking a few moments to share this information with your co-workers, peers and other business partners.  Your contribution will help us in our journey to keep Brandon Ray Buckler's memory alive and to inspire two high school graduates from Pendleton County High School and Campbell County High School's graduating class of 2014, to be able to apply for the scholarship donated in Brandon Ray Buckler's name.  We hope these scholarships will inspire two graduates' to further their education with a purpose to achieve, dream and become one of our world leaders, within
the medical field or become a social worker who guides, educates and is compassionate to families like Brandon's.
Brandon Ray loved the idea of his own Rodeo and the fact his rodeo would educate people about his disease and make more friends.  He was so excited, he would count down the days until the Rodeo, it just wasn't meant to be.  He died the month before.  We decided after his funeral to take a page out of Brandon's way of living life.  Brandon Ray would have said, "The rodeo must go on!"  Brandon Ray's spirit was at his Rodeo, you could feel his vibe from the beginning of the Rodeo's display of the United States Flag flying around on a barrel horse, to the releasing of the balloons for our little angel in heaven, with the announcers voice cracking and breaking up as he told Brandon's life story to the audience.  Two young bull riders rode their bulls with Brandon Ray's initials on their vest.  Neither bull rider knowing Brandon Ray personally,
both putting BB over their hearts.  One of the bull riders later said, it felt like someone was on the back of the bull with him, he normally wouldn't have stayed that long on the bull he had drawn.  The Rodeo felt like it was running its self; the day of the Rodeo went off without a hitch. At the end of the night, after everyone else was busy loading the stock and tearing down the arena.  The coordinator, her husband and the Rodeo owner's wife were sitting under the stars on a bench discussing how wonderful the Rodeo turned out.  A balloon fell out of the sky.  An orange balloon landed on the bench seat closer to the coordinator and was gently, waving back and forth ever so slightly; they all looked at each other and went back to starring at the balloon waving. Finally, the owner's wife, Sandy broke the moment of silence and said, "I think this is a sign from above, Brandon's way of thanking you." She walked away with tears in her eyes.  The Coordinator's husband shook his head in disbelief, while hugging his wife.  He silently turned away, headed back to the arena to finish tearing down, with his boys and the rodeo help.  Tears running down her face, looking at this one lone balloon she told Brandon, "I hope you enjoyed every minute of your Rodeo."  Continuing, to sit there by her- self, not believing her eyes as two more balloons fell around her, landing on different benches, repeating the wave.  Daylight, finally arriving, she stood up looked around the empty arena and fair grounds, searching for other fallen balloons, but there were none.  Realizing then and there, she had known in life and death and felt the spirit of a very special child.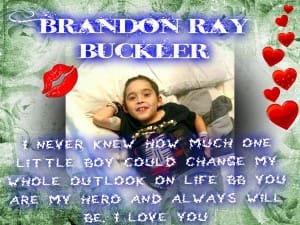 I very much appreciate your time, consideration and for letting me share some of Brandon's story.  He was a wonderful child with a horrible disease.  Hope you can join the team of Brandon's Buddies and become a World Champion sponsor/vendor for a great Rodeo event, which just keeps getting better!
"Dedicated to BB, a child full of inspiration and wisdom, beyond; his short time here on earth"
Sincerely,
Carrie Ackerson
Rodeo Coordinator
csacker38@hotmail.com / 859-391-7627
Brandon's Facebook Page:  Memorial Rodeo Brandon Buckler, request to be his friend…