Sponsor the Macres
"Heaven Birthday Ride"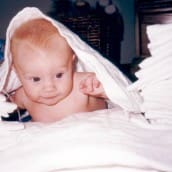 "April 13th, 2011 marks the fourteenth
Heaven Birthday
of our precious son, Gregory.  We have chosen to honor his legacy through the Children's Gaucher Research Fund; we will now begin to celebrate his life through a Memorial Ride visiting significant locations in his journey as he battled Gaucher Type 3." 
 Click Here to Sponsor the Macres Heaven Birthday Ride – in the comment section write "Heaven Birthday Ride"
Greg Macres, Gregory's father and Co-founder of the CGRF, will begin his 41-mile memorial bike ride around the South Bay area in Palo Alto on the steps of Greg's boyhood home. He will then ride to Kaiser Hospital in Santa Clara, where over a four year period Gregory received treatment for Gaucher disease, for both routine and emergency services. From the hospital Greg will then ride to Saratoga Presbyterian Church where, in 1997, over 400 friends and family gathered at his memorial service to honor his life. The next stop will then be in San Jose, to the site where Gregory was laid to rest.
 At his resting place, Greg will join Deborah and Gregory's brother and three sisters to share stories and reflect on Gregory's humor, his resilience, and his courage. It will be a celebration of his life, knowing that the legacy of his fingerprints are paving the way toward a cure for children with Gaucher disease.
"This first annual Macres Memorial Heaven Birthday Ride is our family's way to support the CGRF's efforts toward finding a cure for these children. We would be honored if you would consider sponsoring this special event.  We thank you in advance for your support."
 100% of Every Donation Goes Towards Medical Research.
This was the commitment made by the founders of the CGRF (Greg and Deborah Macres) when the fund was initiated shortly after Gregory's memorial service. Since that time over $1.7 million has been raised and important medical research has been funded. This is a long road to travel – the CGRF has chosen to travel this road – and the road to a cure is paved by your generous donations.
Your continued support is greatly appreciated.