$300,000 of Research
Funded by CGRF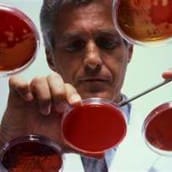 In July 2010 the Children's Gaucher Research Fund published a "Call For Research" soliciting research proposals with the purpose of furthering our quest to find a cure for neuronopathic Gaucher Disease. Eleven research proposals were received from research laboratories across the globe, and over a period of  months these proposals endure an intensive review process. Twelve reviewers (research scientists) from around the world (United States – Denmark – United Kingdom – France – Germany) freely offered their expertise – giving of their time and knowledge to help guide the CGRF in our funding decisions.
The use of twelve reviewers is perhaps excessive, however we take seriously the generosity of our donors and we strive to ensure that every dollar of research is spent wisely. Each reviewer is asked to rank each proposal between 1 and 10 (with 10 being the highest recommendation) and to include specific narrative comments to support their ranking. An overall ranking of 7 and above will be considered for funding, however to date the CGRF has only funded research proposals with an overall average ranking of between 8 and 10.
The highest overall average ranking was received by Tony Futerman Ph.D. of the Weizmann Institute of Science in Israel. The CGRF has awarded this research laboratory a $300,000 research grant to pursue the "Pathophysiological Mechanisms in Neuronal Forms of Gaucher Disease".
Below are comments submitted by one of our esteemed reviewers:
"This grant builds upon a previous body of research funded by CGRF that has delivered excellent value for the money and multiple [scientific] publications. This is the best of the basic science proposals this round. The aim is to generate insights into differential neuronal pathology and its mechanism(s), probe the involvement of neuroinflammation in neuronopathic Gaucher and test new therapeutic approaches based on the two main aims. The previously CGRF funded inducible mouse model of neuronopathic Gaucher will feed into this research program nicely as it will be available within 12 months. The comparative analysis of the acute Karlsson mouse and the new mouse will no doubt lead to important mechanistic insights into pathogenic mechanisms, leading to new therapeutic approaches that can be tested in the two models. All the proposed studies are important, logical, based on sound preliminary data and building on a proven track record of productivity. All the studies are well within the capabilities of the lab.  I think it is important to keep neuronopathic Gaucher disease research a focus of the Futerman lab and to continue the funding of what has been and will continue to be innovative, rigorous and hypothesis driven mechanistic research. New therapeutic approaches will no doubt arise and be tested by this group based on the aims of the grant and their access to proprietary compounds (even if they can't be disclosed at this stage) is an additional advantage."
The Children's Gaucher Research Fund does not have the ability to fund all 11 research proposals some of which were quite compelling. However, we are taking a closer look (continuing to review) one other compelling proposal with the potential of funding a portion of or the entirely of the grant request.