Make A Donation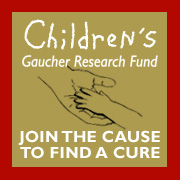 We hope you will find it in your heart to join our campaign to find a cure for Type 2 and Type 3 Gaucher Disease. If you're still undecided, please take a few moments to read about some of the children and their families.
We welcome your contribution.
Please consider the following options when making a donation.
Mail a Check
Children's Gaucher Research Fund
P.O. Box 2123
Granite Bay, California 95746-2123, USA
Matching Gift
If your employer offers a matching gift program, this is an excellent way leverage your generosity.
Stock Donation
Please email us at research@childrensgaucher.org to coordinate a stock transfer.
100% of every dollar we receive will go directly to medical research.
Thank you for your generosity!