Become A Champion
Our Champions
CGRF's champions are people who have taken on the cause to find a cure for Gaucher Disease Type 2 and Type 3. They are families grieving the loss of a child. They are friends and loved ones affected by the disease. They are concerned companies and committed students. They help Children's Gaucher Research Fund advance in its quest for a cure by
making their own personal donations
sponsoring the Lysosomal Diseases and the Brain Conference
hosting memorial golf tournaments and other charity events
asking their communities to make donations in lieu of gifts for birthdays and anniversaries
creating corporate programs for matching employee donations
organizing their own fundraising events
participating in Awake-A-Thons
Our champions have helped raise over 2 million dollars for medical research. Become a champion yourself! What could you do to help us find a cure?
Read some of the inspiring stories about our champions to get ideas for how you can make a difference, too.
50th Anniversary Party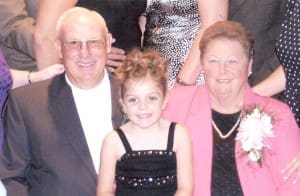 Ron and Ada Schirf of Latrobe, Pennsylvania have a granddaughter, Danielle, who has Gaucher disease. When the Schirfs hosted their 50-year anniversary party, all guests were asked to consider a donation to the Children's Gaucher Research Fund in lieu of a gift. Ron and Ada sum up their thoughts as follows: "We wanted to celebrate this event with our family and friends, but at this point in our lives we don't need any more stuff'. We decided to use this opportunity to channel the generosity of our friends and relatives to the cause we are most passionate about. We thought that this was a great way to enjoy our anniversary party with donations going to Gaucher research. Our idea was a tremendous success."
A One Man Bike Ride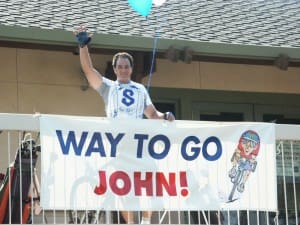 John Carman, manager of the Coldwell Banker real estate office in Palo Alto, California, chose to golf at the Gregory Austin Macres Memorial Golf Tournament. He then made another choice – to ride his bike 50 miles from his office to Cinnabar Hills Golf Club prior to tee-off. He asked around for a few individual sponsors, and things took off from there! John simply had an idea, acted upon it, and raised over $7,500. His simple idea showed us: anything is possible if enough people care.
Annual Memorial Charity Poker Event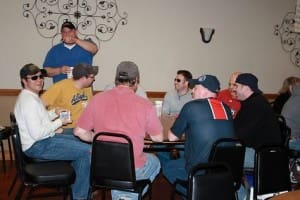 Zachary Wheatley lost his 8 month old son Lincoln Lewis Wheatley to Gaucher disease on July 13, 2009. To honor his son he is organizing an annual event to raise funds for a cure. "We are holding an annual memorial/charity poker event each year (last weekend in March) to exclusively raise money for the Children's Gaucher Research Fund. This past Saturday, March 27, 2009 was our first annual event…and it was a great turnout! We had about 70 entries, several large raffle prizes, free food and beverages, 50/50 drawing, door prizes, and much more. Everyone had a great time playing poker and raising funds for the charity. Many local business and individuals helped to donate the raffle prizes, including sports tickets, signed sports memorabilia, and gift baskets. The event was held in Canton, OH…and will be held there every year at the same location (430 Walnut Ave Canton, OH). This is an FOP hall that they rent to us for free. In March 2010 we were able to raise $3,000.00. For details on this annual charity event visit http://www.playforgaucher.org/." For some some great suggestions from Zachary on how to create a successful event – Click Here
Awake-A-Thon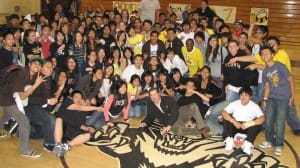 The Florin High School KEY Club in Sacramento, California organizes an annual Awake-A-Thon where students come to the school gymnasium and participate in various activities throughout the night. KEY (Kiwanis Educating Youth) is a part of Kiwanis International, an organization striving to educate young men and women to volunteer spare time in their local communities. This organization develops and mentors youth as leaders, builds playgrounds, raises awareness or funds for pediatric research, and undertakes many more local projects. No problem is ever too big or too small for KEY Clubs! Through their 2008 Awake-A-Thon, Florin KEY Club raised $21,000 for the Children's Gaucher Research Fund. Teacher and KEY Club advisor Elias Mendoza has this to say: "I enjoy seeing the positive attitude and vitality that this event brings out of these young adults. Their determination, aspirations, and hopes are contagious. Imagine what could be accomplished if every school had a similar student organization?"
Charity Concert
Maria Villar, a senior at Charlottesville High School in Charlottesville Virginia, organized a Charity Concert raising over $3,400 for medical research. Maria's sister, Victoria has Gaucher Disease. Here is Maria's description of the event:
"At the actual concert, after all of the set-up, the first thing that I did was welcome everyone who attended. Then the LifeTeen Band that I am a part of sang a few songs. After that, my piano teacher, Mateo Favero, played a few pieces on the piano. When he finished, we had an intermission for about fifteen minutes so that the audience could enjoy the refreshments we had provided. After the intermission I talked a little bit about why I decided to hold the concert. I had to do a community service project for my Government class, so I decided that it would be a good idea to host a concert that would help fund research for my sister's disease. It is something that has weighed down upon our family and my sister for years. I thought that anything that I could do to help would be great. During my speech my sister came up to the front and thanked everyone for attending. After that an archipelago group from the University of Virginia called CHoosE performed. Then the LifeTeen Band and CHoosE sang a few songs together, and when they finished my Father gave a speech about his experiences with my sister having Gauchers. We raised over $3,400 at the concert."
Switch Stores and Help CGRF Earn Money!
Through the help of a Gaucher Family, Suzy Ashley in Florida, The Children's Gaucher Research Fund has signed up to make money with an online health and wellness company. We are currently raising approximately $5,000 a year and have earned over $40,000 since the start of the program. We have done this by simply changing where we shop! With this fundraising opportunity, families can shop for better, less expensive and safer products for their households such as: toothpaste, laundry detergent, soap, shampoo, vitamins, and 400 other great products. Not only do families benefit from these products created for environmental wellness, but it will be no new money for you AND CGRF will receive 7% back from every order you place! This means that each month, CGRF receives a check simply from people shopping for their everyday consumable products.
Please help us continue to make this program a success. For information about how you can help your family and earn money for CGRF please visit http://www.livetotalwellness.com/suzy or contact Suzy Talluto-Ashley directly at sashley2@cfl.rr.com.
Jazz in the Garden Fundraiser
Country Moms and Kids is an organization that serves moms in the Northern California communities of Roseville, Rocklin and Granite Bay. Country Moms and Kids provide support, education and friendship, along with opportunities to become involved in the community. They became aware of our efforts and offered to join hands in our search for a cure. On a beautiful Saturday afternoon, a "Jazz In The Garden Fundraiser" was organized to benefit the Children's Gaucher Research Fund. The event provided food and entertainment in the beautiful California sunshine. Food was donated, a live Jazz Band performed pro-bono, and each attendee paid a small fee for admission.
Pizza Hut Fundraiser
Michele, Russell, Erin and Kelly Marsh — in collaboration with Pizza Hut of Maryland — sponsored a fundraiser for the Children's Gaucher Research Fund. Pizza Hut kindly donated 20% of all sales from the Perry Hall, Maryland restaurant that evening to CGRF. The event was a way to honor the Marshes' daughter, Lauren, whom they lost to Gaucher Disease. The event that evening raised over $420. The Marshes would like to thank Pizza Hut of Maryland, St. Joseph (Fullerton) School families and others for a successful evening! Michele and Russell Marsh lost their daughter Lauren to Gaucher Disease on March 28, 1992. Despite their loss, the Marshes continue to fight the battle to find a cure.
Dairy Queen Fundraiser
With the initiative of Robbie and Suzy Ashley of Merritt Island, Florida, the first annual Dairy Queen fundraiser was organized. Cal and Stacy Dixon, former NFL football player and longtime friend of Suzy Ashley, hosted the event. Cal opened the doors to his Dairy Queen one Saturday and donated a portion of all profits to the Children's Gaucher Research Fund. The event raised over $1,200. Also included in the fundraising was a car wash sponsored by the Holy Trinity Football players who graciously gave all their earnings to the Children's Gaucher Research Fund.
E & O Trading Company Restaurant
Located in downtown San Jose, California, E&O Trading Company celebrated its One Year Anniversary by sponsoring a charity fundraiser for the Children's Gaucher Research Fund. On a beautiful summer evening, over 250 guests were treated to a dinner buffet featuring tastes from the critically acclaimed E & O Southeast Asian menu. In addition, the E & O Trading Company featured fine wines, champagne, micro-brewed beer, flavored martinis, and the Cecil Wells – Kai Hutchins Jazz Band. All were in agreement — that every aspect of this event was first class. Through a small admission fee, as well as raffles and an auction, the event successfully raised $10,500.
Employed by the E & O family, Daniel Torres shared his family's experience with Gaucher Disease. Flanked by his wife Maria and his Daughter Alexandria, Daniel paid tribute to his 14 year old daughter, Alexandria. There was not a dry eye in the house.
In Daniel's words: "As some of you already know, the Children's Gaucher Research Fund is a cause that is as close to my heart as humanly possible. For those of you who do not know, I would like to introduce you to my hero, my inspiration, Alexandria Torres, my daughter. To this date, Alexandria is still the world's only surviving mismatched unrelated Bone Marrow Transplant patient. For some families, bone marrow transplantation can be a viable option. For others, genetic research represents the best chance of survival. In either case, there is still much more work to be done until we claim victory."
What's Your Idea?
What simple action could you take to make a difference in the lives of GD2/3 families? If you have a fundraising story to share, please contact us at research@childrensgaucher.org.