Wish Upon a Star:
Madeline Collin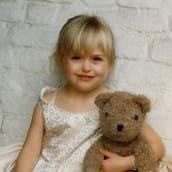 My story begins twelve years ago. On Thursday 22nd September, 1994, I gave birth to my daughter Madeline. She was a healthy 8-lbs. 13.5 oz. Family life carried on until early January, 1996, when Madeline was taken ill and diagnosed with Type 3 Gaucher Disease. Since that day almost eleven years ago my life has never been the same. Nothing prepared me for what the future had installed. At times I feel sad, frightened, angry and alone. The pain inside is sometimes unbearable. Coping is sometimes hard and I often ask why this has happened, what has my daughter done to deserve this?
Despite everything Maddie has been through she is a strong independent person and is eager to grow up and enjoy life. Every parent is proud of their child, I am no exception, as I write this article I want to sing from the treetops and tell you what an inspiration she has been to me and how proud she makes me feel.
Despite the ups and downs of living with a long term progressive illness Maddie's determination has given her the strength to cope with the many challenges that life has thrown at her. School and her lack of confidence in her abilities have been the main issues of concern. School has been a major difficulty for Maddie. Her eye movement, short term memory and auditory processing problems associated with her condition have meant that she finds school tough and very challenging. At times this has been exhausting and very stressful but with a lot of patient, time and effort from Maddie's teacher and Maddie's determination she made it through primary school sat her end of year exams. School will always be tough and a challenge but she has a full time support worker at school now and this will enable Maddie to reach her own full potential by giving her the support she needs.
At the beginning of September, 2006 with my stomach churning and feeling slightly sick I said goodbye to my eleven year old daughter Maddie as she went off to secondary school for her first day. I spent the whole day worrying; every time the telephone rang I thought it would be the school saying there was a problem. At 3.30pm later that day she arrived home exhausted but with a smile on her face.
Because of the difficulties Maddie has had at school we have tried to encourage her to take up activities and interests outside of school and academia hoping that this would boost her confidence. Maddie swims like a fish, plays the violin, dances each week and has recently started horse riding. When I see Maddie on a horse I can see that she truly loves to ride, she has this huge smile on her face, her back is straight and she oozes self confidence. It is the same with swimming. Maddie is a truly bright girl and in the right environment with the right support and encouragement the world is her oyster. Take away the stress of everyday life, the pressure of time and the need to be good at everything and Maddie and many other children like her with similar problems would thrive.
Every now and then Maddie asks me questions that are hard to answer, mainly about what will happen to her in the future, if there will be a cure, these always come out of the blue and turn my insides up side down. As a parent you always want to be honest with your children and I say "who knows what the future will bring". It is hard though to be positive when after 11 years we are really no further forward with a treatment for the neurological involvement of the disease.
Maddie is currently on the Zavesca trial for Type 3 Gauchers disease in combination with enzyme replacement therapy. She has been on the trial for over three years now and as the trial comes to an end we all wait in anticipation for the results. She is scared that there will never be a cure and as she gets older she has began to resent all of the medical intervention. Whenever Maddie and I are together and we see a shooting star we look at each other and know that each other have made the same wish, the wish for a cure.
A year or so after Maddie had been diagnosed Susan Lewis of the UK Gauchers Association asked me to join the executive committee as the representative for neuronopathic families. I had reservations, I thought what do I know about charity work and I was just a mother struggling to come to terms with Maddie's illness. I think it was the stubborn streak in me that saw it as a challenge. Also I thought back to when Maddie had been diagnosed and remember how alone I had felt and I thought if I could just help another family and let them know that they were not alone then it would be worth it. Two cases I remember clearly are when we traveled to Nottingham to meet a family whose daughter had just been diagnosed with Type 3 Gauchers disease, I took Maddie with me and when they saw her and saw how normal she was and that she was able to do lots of things I could see that they saw hope. Another case was just before Christmas one year and Dr. Vellodi, Maddie's Consultant at Great Ormond Street Hospital asked me if the mother and father of a type 1 child could come up to the ward to speak to me, when they arrived they asked where Maddie was, at that moment Maddie rushed past the ward door totally naked with tinsel in her hair, again I saw hope.
In the nine years since I became involved with the Gauchers Association I have tried to offer support to patients and their families, raise the profile of neuronopathic Gauchers disease, improve the clinical management of patients and understand the challenges they face when accessing education. Most if not all of this has been achieved in partnership with Dr. Ashok Vellodi, Maddie's Consultant at Great Ormond Street Hospital.
Looking back I am particularly proud of three things that I have achieved. I am just a parent who wants to be able to give my daughter a chance at life.
.
• Hosting two Neuronopathic Family Conferences in 1999 and 2004 for UK and European families.
• The development of the European Consensus on the Management of NGD and its publication in the Journal of Inherit Diseases in 2001.
• Being a contributing author in the new book on "Gauchers disease".
Not long after I got involved in the Gauchers Association I received an e-mail from Greg Macres, the father of Gregory Macres who sadly passed away at the age of four years old from complications after a bone marrow transplant. Several e-mails and a long late night telephone call across the Atlantic Ocean later, Greg had shared his and his wife Deborah's plans for the 'Children's Gaucher Research Fund'. Greg and Deborah's determination, energy and commitment to find a cure for neuronopathic Gaucher disease is a true success story. Understanding what happens in the brain of these children is vital and due to the rarity of the disease it is difficult to access money for vital research. The Children's Gaucher Research Fund (CGRF) has enabled professionals interested in the field of Gauchers disease to apply for funds to try and understand the disease with the ultimate goal of finding a cure.
In 2004 I was lucky enough to attend the 2004 Lysosomal Diseases and the Brain conference in Washington where I met Greg and Deborah Macres for the first time. Many of the key Professionals in the field of Lysosomal Diseases from all over the world were at the conference. Greg and Deborah's vision to bring the lysosomal disease together was an important one and it became apparent that advancement in one disease could potential benefit another disease. Following the success of the 2004 conference, in 2006 another Lysosomal Diseases and the Brain Conference took place in Sacramento, California.
In 2005 the Executive Director of the UK Gauchers Association retired and the Trustees of the Association asked me to take over the role as Executive Director. In this new role I now manage the day to day operational aspects of the Association including organising conferences; publishing a half yearly newsletter; supporting families; liaising with Pharmaceutical and Homecare Companies and encouraging Research into Gaucher disease. I am also the conveneyor of the European Gauchers Association (EGA) which is made up of 24 European Gaucher Patient Organisations. The role of the EGA is to exchange relevant information in particular on: The treatment and management of Gaucher disease and research being carried out in member countries and elsewhere; to keep member organizations aware of developments in member countries; to encourage multinational research into Gaucher disease.
Taking on this role has certainly been a challenge but one I have enjoyed one I thrive on, one I feel extremely lucky to carry out.
Tanya Collin-Histed
Executive Director
UK Gaucher Association LTD
United Kingdom