Precious Little Miracles:
Grant and Garet Geyer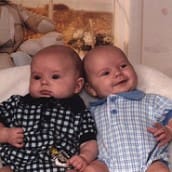 July 1st 1999 was a very happy day. My husband Greg and I became the proud parents of seemingly healthy identical twin boys. Grant weighted 7 lbs, 3 oz. and Garet weighted 6 lbs, 10 oz. They were not only precious little miracles, but also a dream come true. Our journey as busy parents was just beginning with twin boys and big brother Tye who was at that time only two years old. We had our hands full but life was good and there was never a dull moment around our house.
In November, when the twins were four months old, Grant and Garet developed a cough. We took them to the doctor for a checkup and he gave them a decongestant and sent us home. Weeks passed and we continued back and forth to the doctor trying different cough suppressants and various remedies, but nothing seemed to work. For the next couple of months the twins' coughs continued to worsen to the point that sometimes they would get so choked they would turn blue and quit breathing. Soon these choking episodes became increasingly frequent.
In late February, Grant and Garet's choking became so severe; we rushed them to the local emergency room. After a complete round of late night testing, they were diagnosed with Respiratory Syncytial Virus (RSV). The next day, at the advice of their physician, they were transported to a much larger hospital that would have the facilities to care for their condition. How were we to know that from this point on our lives would never be the same. For three days in the hospital Grant and Garet were put through a battery of tests. They were on monitors, had horrible tubes down their throats to suction out mucus, and had IV's running out of their wrists and feet. It was way too much for Greg and I to bear and we couldn't wait for the doctor to find the right medicine that would get them through this awful nightmare. We were so anxious to take our boys home and pick up with our normal day to day lives.
Later that week in their hospital room, I was changing Grant's diaper and rubbing his belly when I noticed a huge lump. I checked Garet and sure enough he had one too. Immediately I alerted the doctor who promptly ordered an x-ray, which determined that the twins' spleens were much enlarged. This was a puzzlement to our doctor who knew an enlarged spleen was not a symptom of RSV. They decided to call in a specialist from the local Children's Medical Center for another opinion. On February 29th, after a thorough examination and another round of tests, Greg and I first learned about Gaucher's Disease. All of the other tests for various spleen enlarging conditions had come back negative and the boys' condition continued to worsen. The specialist from the Children's Medical Center had seen one other case with symptoms similar to Grant and Garet's and it was Gaucher's Disease. We could tell by the look in his eyes that he felt sure Grant and Garet had Type II Gaucher's. It was then we realized that our boys might never live to be a year old.
However, Greg and I never gave up hope. We knew that Gaucher's was a very rare disease and they still had to run the tests to confirm it. So they took blood and bone marrow samples from the boys and sent them to a laboratory for testing and we began our week-and-one-half long wait for the results.
In the meantime Greg and I tried to hold our heads up and think positively about the results. We prayed and prayed that God would not take our boys from us. As the days went by the boys began to show a slight improvement. It was a very heartening sign and we were actually looking forward to taking our boys home. However, just when we were feeling this encouragement, the test results came back. Our worst nightmares were confirmed when the boys were diagnosed with Gaucher's Type II. We felt like our world had come to an end. However, it was only by prayers to God for strength and through His grace and love for us, that we were able to pick up our heads and begin to fight this battle for our babies.
Throughout the days and nights in the PICU unit Greg and I never took for granted the precious little time we had left to spend with our boys. They always had a smile and a little goo or gaga that would seem to come just at the right moment to help get us through another day. Through the roughest times, they were the strongest. However, it was not long before the bad days greatly outnumbered the good days. Greg and I knew it was time for us to make the most difficult decision of our lives.
On the 23rd of March Greg and I took our little ones home where they belonged. We knew their time was short and we spent every moment loving them as much as we could. On the 26th of March, God took His little angels home, away from their suffering, to be by His side for eternity.
Grant and Garet were only on this earth for 8 months and 24 days. Yet in this short time, they touched so many lives with their contagious smiles, which they gave so freely, and by the determined spirit and strength they displayed each day during their courageous battle. They brought a smile to every face and changed the life of every person they came in contact with.
In closing, we want to thank everyone for their thoughts and prayers because without family and friends praying and trusting in God to get us through this battle we could not have and will not be able to survive this ordeal. Please continue to pray for us and all the other families that have fought this same battle or are on the battlefield right now.
"Suffer the little children come unto me, and forbid them not; for of such is the Kingdom of God." Amen. Mark 10:14
Greg and Lisa Geyer
Beggs, Oklahoma