Dallas is the Best:
Dallas East Thompson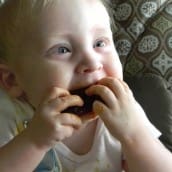 Dallas East Thompson was born during a Texas summer thunderstorm on July 19, 2010. He was welcomed into the world by a family that already loved him very much. There were no immediate signs of what would soon change many lives forever. 
At 10 days of age, Dallas' pediatrician detected an enlarged spleen and sent us the Emergency Room. However, the blood work returned normal so it was decided there was no immediate cause for alarm. With normal family adjustments to a new baby in the home, that first of many ER visits faded into the rear view mirror. His growth and development followed a normal path until 6 months of age when feeding and weight gain issues were the first sign there was a real problem. Following a lengthy diagnostic process that included a false negative test for Gaucher's, we met with Dr. Schiffman in Dallas Texas for a second opinion. He was compassionate, but offered no false hope. Dr. Schiffmans' best advice was for us to take Dallas home and love him, and that's exactly what we did.
Dallas bore all the needle sticks and physical exams with incredible fortitude. He protested of course when being held down for procedures, but did not bear a grudge. Soon he would be playing cheerfully again. His favorite toys were the Learning Farm, xylophone, rattles, and a wooden spoon from the kitchen that he banged on cookware or anything else he could reach with it. In just a little over 22 months he touched the lives of many people. Never without his Binky, Dallas embarked on his most famous accomplishment – adding to his list of girlfriends. Dallas was a lady's man. He flirted with all his female nurses. He had a favorite respiratory therapist and most of all a favorite ICU doctor, Dr. Thapar. Once, she came personally to the ER to escort him to the PICU. The ER doctor said he had never seen such a thing before in his career. Child Life and Pastoral staff were Dallas' fans as well. On his very last stay in the hospital, Dallas was serenaded by a guitar playing Child Life intern and had a concert in his PICU room. After his death, some of the night shift PICU nurses named a star for Dallas that is registered with Name a Star.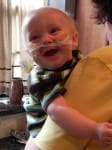 Dallas also loved his home care team and hospice nurse. He got his first toy car from Miss Jenny, a developmental specialist with Texas Early Childhood Intervention program. His home care nurses played with him, read him stories, and made sure that all of his needs were met. Dallas loved to be held. Along with his family, the home nurses spent many hours just holding him. Sometimes, Dallas would not sleep unless he was being held, so that's what we did.
Most of all, Dallas loved his Mom and Dad. Dallas enjoyed hanging out with Dad and watching sports on TV or going outside for adventures in the backyard. Dallas saved his warmest smiles for Mom. As soon as she came into the room, he really did not have time for anyone else.
Dallas got his trach on August 18, 2011 after a respiratory arrest. The day after surgery, Dallas was lying in bed with his right ankle resting on his left knee like he was catching some rays on the beach. A few days later, Dallas sat with help in his Bumbo chair so he could bang on his xylophone. Despite sedation making his aim a bit off, Dallas just kept on playing.
Finally, when he could not sit up any more, Dallas played on the floor rolling back and forth while grasping toys or shaking a rattle. When he could no longer do those things, his Nonna would build a stack of blocks, and Dallas would smile as he knocked them down. Then we would do it over again.
On reflection, there is so much more to Dallas' story than the long road to diagnosis and later the unrelenting deterioration of his physical capacity. Actually, Dallas' story is more about love and perseverance in the face of adversity than just a remembrance of tragedy.
Dallas passed away peacefully on June 1, 2012, a bright summer morning. He was in his mother's arms with Dad at his side as always. We miss him every minute of every day. He brought love and joy to his family and caregivers that will never be forgotten.
Karen and Justin Thompson
Cypress, Texas