Baby Aaliyah:
Aaliyah Heinzelman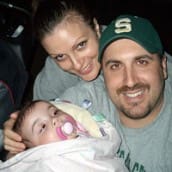 We are writing to share with you a commitment we have made. We have joined hands with families from across America. Our Goal: to find a cure for the disease that took our daughter Aaliyah.
We lost our daughter Aaliyah to Gaucher disease type II on June 26, 2008, which was a big topic here in Grand Rapids and in various places around the world, primarily in the Gaucher community. Aaliyah is very well known in the "medical mile" for her frequent hospital visits/admissions. She's also been in the news numerous times, she has been featured in the newspapers and also NBC's Today Show as well as Dateline would like to feature Aaliyah's story (My husband is just not ready yet; the pain of losing her is still too fresh). It is impossible to describe to you the pain of losing our child. Aaliyah's short life changed our lives and so many others lives forever. Now, after losing Aaliyah, we have choices to make. We can give up on life, or we can help give life to other children who suffer from this terrible disease. We know that Aaliyah is cheering us on. We know that Aaliyah is encouraging us to be positive, to be proactive, and most of all, to help make a difference. We know that Aaliyah is encouraging us, and we believe guiding us to find a cure once and for all!
You may be thinking, "Oh no, I'm on another mailing list"! Quite frankly, you are, but remember, YOU can help make a very big difference in the lives of children like Aaliyah with this life threatening and debilitating disease. There is some apprehension in writing this article. However, after joining hands with these other families, writing this article becomes easier. We think of the young woman whose 20-month-old daughter was recently diagnosed with Gaucher ('go-shay') disease. As she shares the story of her daughter's endless medical needs, we are reminded of our own lives, not too long ago. She then breaks down in tears, and while sobbing and distressed, asks, "Am I going to watch my baby die before my eyes"? To tell you these are painful reminders is an understatement. But it does underscore two facts:
This may not be our tragedy. But it's today's tragedy for many families.
We know all too well that the answer to her question may be, yes.
In short, this is the type of real life story that allows us to shelve any embarrassment and ask you to become involved in a grass roots effort with this research fund. We don't wish to ask for a large commitment of time, simply a decision that your charity of choice, will be the "Children's Gaucher Research Fund", which is 100% tax deductible. From that point forward this may entail sending a periodic donation, or simply developing an awareness of opportunities that may help raise research funds.
Here is what initially caught our attention and solicited our respect:
100% of donations go directly to medical research. There are no salaries. There are no administrative costs. All costs for postage, printing, web site development, etc. are either donated, or paid for by the founders.
This is a grass roots effort, whereby parents across the nation, and beyond, are working together to raise funds for medical research. We as parents are not asking for a handout, we are asking for your "Helping Hand".
These are children, who only ask to have a chance at life. As a group of parents, we are willing to fight the battle with and for our children, and we have decided to be on the front lines of the battlefield.
It has been said that the 21st century is the century of the brain. This research will have overlapping benefits; benefiting a host of adult and childhood diseases, that affect the brain.
In one of the past Helping Hands newsletters this quote seemed to crystallize our feelings:
"Over the years of my life, I have sporadically donated time and money to various causes. I never really found a charity I could adopt, a charity I could believe in, one that captured my heart. We have all heard stories about charitable causes where only a small percentage of donated funds are applied to the charity itself. In the past, this has given me cause for concern and has made me cautious. I was never able to find a charity that I could call, my "Charity of Choice". I have been taken by your efforts and your commitment. I am proud to choose the Children's Gaucher Research Fund as my charity of choice."
We understand that you may already have a charity that you sponsor. However, if you feel a personal connection, as we do, we ask that you consider making the Children's Gaucher Research Fund your "charity of choice". Our family will be a part of the Children's Gaucher Research Fund, until a cure is found, and it is people like you that WILL make that possible!
Timothy & Elizabeth Heinzelman
Kentwood, Michigan