Angel from the Beginning:
Emma Pozzobon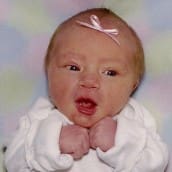 Emma was an angel from the very beginning. When I was pregnant with her I knew she was special and was going to touch many people's lives, but I really didn't realize how right on I was.
On December 18, 1996, Emma was born, and this day was when she made her first visit to the N.I.C.U. (Neonatal Intensive Care Unit). She was not able to remove all of the fluid from her lungs and needed to be watched closely. She recovered and Scare # 1 was over. I took her home 27 hours later – she was a good baby. She loved to be snuggled and this is how she got her nickname "Buggy". Emma progressed normally, and in some cases above normal in her developmental skills like rolling over and crawling. She never ate very much. She would eat often but only drink an ounce or two at a time. Emma seemed smaller than other children her age and this was confirmed, as she was not keeping pace with the growth charts. At the time we attributed this to her simply being a tiny baby as this seemed to run in our family.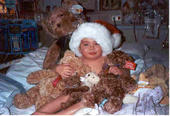 At 10 months old Emma tried to walk. She was doing very well and then one day she just stopped trying. We then noticed her eyes were doing a funny thing. When Emma turned her head to look at something it was like she moved her eyes sideways then her head would follow. Like a sprinkler, only side-to-side never up and down. I later learned that this was Supra Nuclear Gaze Palsy, a common symptom of Neuronopathic Gaucher disease. We then received Scare #2. Emma had a cold and developed little red bumps all over her body, especially around her socks and diaper area. This was called petechia. The Doctors immediately tested her for Leukemia. We thanked God when the tests came back negative. It was decided that the petechia was a result of her cold and low platelets.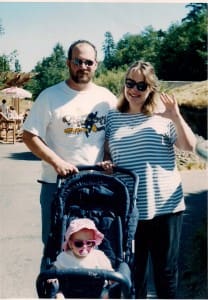 We discovered we were pregnant again right after Emma's first birthday. Shortly thereafter Emma got very sick with a virus. She had diarrhea for nine days. Each night as I would rub her tummy for comfort. I noticed there was one side that was hard as a rock, while the other side of her tummy was soft. I took her in the next day for her follow-up appointment for the virus and the doctor sent us for an immediate ultrasound. When I returned to her office the ultrasound results showed her spleen was 30 times larger than normal and her liver was 5 times larger than normal. We were immediately sent to Children's Hospital. At Children's Hospital Emma endured endless testing, and it was concluded that she had Gaucher disease. Emma began enzyme replacement therapy a month or so later and she improved tremendously. Her liver and spleen reduced in size. Within 18 months her spleen was normal size, something her physicians never thought would happen. When our second daughter was born it was recommended that we keep her stem cells. We did so, and as it turned out Emma and Maddi were a perfect match.
Emma was now walking a little weak and unsure of herself so my husband took her to a Neurologist. After observing both her walking and her eye movements, he concluded that she had the classic neurological symptoms of Gaucher disease. It was at this time that we decided to do a Bone Marrow Transplant. One of the most difficult decisions I have ever had to make. With stem cells and a perfect match everything seemed to be "in her favor", so we decided to move ahead with a Bone Marrow Transplant (BMT). On May 15, 2000, at 3 years old, Emma underwent a Bone Marrow Transplant. We almost lost her 4 weeks into the BMT due to seizures and other complications. At one point she had complete kidney failure, but eventually she returned to full function. She also had severe Graft Versus Host disease. Emma's determination amazed the doctors and nurses. She tried so hard, but was unable to walk after the transplant. One year after transplant she lost her ability to talk, and began communicating by pointing and using inaudible sounds.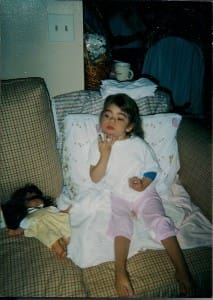 It became clear in the last nine months of Emma's life that she was losing the battle. Her seizures became uncontrollable. Emma was now on 6 different seizure medications. Despite this, she would still have 100-150 seizures a day. She was eventually on oxygen, an oxygen saturation monitor and a feeding tube. As her mother, watching her go through this was heart wrenching! I simply wanted to be her Mother, not her nurse.
The last couple of weeks she did not want to watch her movies that she had enjoyed so much. She was frustrated, and just wanted to sleep and be held. Emma then went into "status" seizures. She was now in a "medical comma", where she continued to have seizures. She had a breathing tube, her blood pressure was low, and her heart rate was high. On November 6, 2002, with our second child on the same floor of the hospital with gall bladder surgery, we made the decision to let her go. This was the hardest and most difficult decision of my life. One I will struggle with, for the rest of my life. Emma left us peacefully, just prior to her 6th birthday. I miss her so much – I was the luckiest person in the world – I was truly blessed to be Emma's MOMMY~!!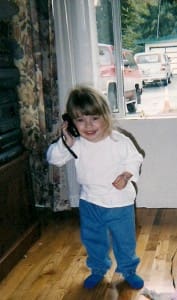 Caring for Emma was exhausting. Looking back I don't know how I did it day after day. I had the help of her Grandma's, a wonderful neighbor and Emma's Father. Despite the hardship, I would do it all over again. I would take her back in a minute – to care for her – to take away her pain – to tell her how much I love her. The Children's Gaucher Research Fund has brought support, and has allowed for the opportunity to talk with other families. There is comfort in knowing that you are not alone. I have chosen to join this effort to find a cure, and I will do what I can to help this come to pass. When the day comes that we find a cure, I know that Emma will be smiling down upon us.
Jeanice St.George
Auburn, Washington