Kondi Wong, M.D. USAF MC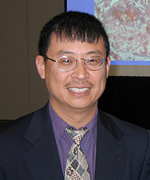 Dr. Kondi Wong received his BS from Stanford University in 1982, where he worked in lipid biochemistry and received a research stipend from the American Gastrointestinal Association in 1981.  He received his MD in 1988 from the F. Edward Hebert School of Medicine of the Uniformed Services University of Health Sciences (USUHS) in Bethesda, Md.  He completed his residency in 1993 with one year of Internal Medicine and four years in Anatomic and Clinical Pathology at Wilford Hall Medical Center in San Antonio, Texas.
After his residency, he accepted a combined two-year research scholarship and Neuropathology fellowship with Drs. Prusiner, DeArmond, and Davis at the University of California, San Francisco.  At UCSF, Dr. Wong's research efforts in Prion and Neuromuscular diseases with Drs. Prusiner and DeArmond were awarded with the 1994 Edwin Boldrey Award for Excellence in Basic Research in the Neurological Sciences.
He came to the AFIP (Air Force Institute of Pathology) as a staff pathologist in the Department of Neuropathology in 1995 and became Chief of the Division of Neuromuscular Pathology in 1998. While at the AFIP, he developed the AFIP Muscle Disorders Course and was awarded the Moore Award for clinicopathologic research from the American Association of Neuropathologists, the AFIP John Hill Brinton award for young investigators research, the Walter Reed Army Medical Center Medallion presented by General Timboe, and Dept. of Defense invention award for patent innovation.  After 8 years at the AFIP, Dr. Wong became the Division Chief of Neuropathology at Wilford Hall Medical Center in San Antonio, Texas in July of 2003 and serves as consultant Neuropathologist and as Professor of Pathology at the University of Texas, Health Science Center, San Antonio in an adjunct position.
Dr. Wong is a member of the Scientific Advisory Board for the Children's Gaucher Research Fund.